Guardian Angels Medical Service Dogs, Inc.
First, thank you to Disabled Veterans National Foundation, for allowing us to share our story, but specially for the $25.000 grant that enabled us to train one service dog for one year, that is going to help a disabled veteran.
We are Guardian Angels Medical Service Dogs, Inc. We Rescue, Raise, Train and then Donate individually trained medical service dogs to veterans, first-responders and civilians with disabilities that are both visible and invisible. We began in Williston, Florida in 2010, and have paired more than 330 individually trained medical service dogs to deserving recipients in 24 states across the country.
What can Service Dogs do? Our dogs receive up to 2 years of customized, positive-reinforcement training to meet the exacting needs of their future recipient. Once completed, our dogs can perform duties that assist with a myriad of challenges. For example, our dogs can detect diabetic changes, oncoming seizures or panic attacks. They can gently wake recipients from night terrors which allows them to return to a more restful sleep and shield them in public to lessen the frequency of panic attacks. For those with mobility issues, they can provide balance assistance, open and close doors, turn on and off lights, and retrieve dropped items. They can alert to an oncoming seizure before it happens, so our recipient can ensure they are in a safe place. Not only do we donate these amazing dogs to their recipients, we also cover their expenses to come to our facility for an intensive 10 days of pairing.
Through our incredible dogs, we have been able to restore freedom and independence to our recipients and help them to live a beautiful "New Normal". Many of our recipients have returned to work and/or school, restored relationships with family and friends; things they no longer believed possible before receiving their service dogs.
One of those recipients is Jody. Jody is a veteran of both the Army and Navy, who was paired with his Service Dog, Nick in 2019. Jody said: "2018 was going to be my final year. I was very suicidal for a while due to several illnesses – add PTSD to the mix, and I was withdrawing quickly from family, friends and life. At the urging of family and friends, I held on one more month to see if this service dog could make a difference. This was the best decision I have ever made. Nick has proven to be a man's best friend. My life before Nick was a wreck. The same week I received him, I went out to dinner with strangers, got my first tattoo, and I swear my blood pressure dropped. I felt great. Nick immediately started alerting to my blood sugars".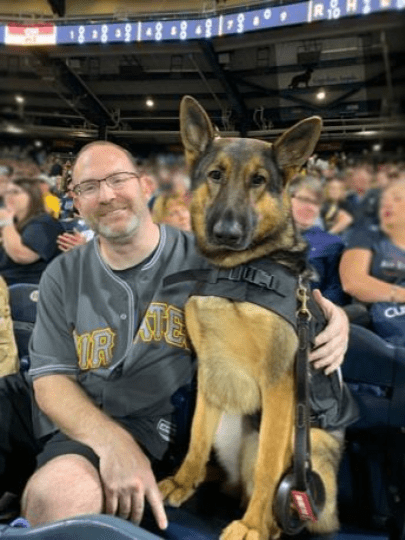 Recently, Jody celebrated his first "pairaversary" – one full year of having Nick by his side. In their first year together, Jody has accepted a new position at work, he's enjoying going to sporting events, and family life is good again.
Jody and Nick's story seems incredible, and it is! But it is a story we've heard more than 300 times. The rate of suicide in our veteran and first-responder populations is shocking nationwide, with 22 veterans each day taking their own life, and sadly, we're seeing similar stats in our first-responder community. But once paired with one of our service dogs, the rate of suicide, to date, is Zero. The rate of divorce in combat veteran families nationwide can be 90% higher than in a civilian household, but amongst our recipients, the rate is less than 2%. Many of our recipients have gone back to school, returned to the workforce and have reduced medication under their doctor's care.
This year, we celebrate our 10th anniversary, and we are making some big plans. We've purchased property in both Williston, FL and near Pittsburgh, PA to build two new state of the art campuses that will help revolutionize the service dog industry and are fundraising for those projects now. We will be announcing anniversary celebration events soon, and we hope to see you there!
We are very proud to be the trainers of Service Dog, Alice, who is the reigning American Humane Hero Dog of the Year, as well as Service Dog of the Year – the #1 Service Dog in the United States.
If you'd like to learn more about Guardian Angels, and our mission to improve the lives of those with disabilities, you can visit our website at: www.MedicalServiceDogs.org, or email info@MedicalServiceDogs.com. We're always happy to answer any questions you might have.
Guardian Angels is a 501(c)3 non-profit organization.